Healing Retreat with Fateh Singh Khalsa (Germany)
Sat Nam Rasayan® – Yoga – Meditation – KozmoGong
"Listen to the silence, wherever you are, is a simple and direct way to be present. Even if there is noise,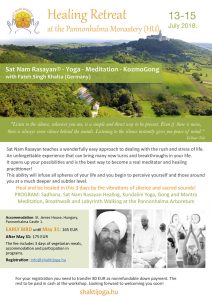 there is always some silence behind the sounds. Listening to the silence instantly gives you peace of mind."
Eckhart Tolle
Sat Nam Rasayan teaches a wonderfully easy approach to dealing with the rush and stress of life. An unforgettable experience that can bring many new turns and breakthroughs in your life. It opens up your possibilites and is the best way to become a real meditator and healing practitioner!
This ability will infuse all spheres of your life and you begin to perceive yourself and those around you at a much deeper and subtler level.
Heal and be healed in this 3 days by the vibrations of silence and sacred sounds!
PROGRAM: Sadhana, Sat Nam Rasayan Healing, Kundalini Yoga, Gong and Mantra Meditation, Breathwalk and a HipHop dance class.
Accommodation:
The fee includes 3 days of vegetarian meals,
accommodation and participation in programs.
Information & Registration: info@shaktjoga.hu